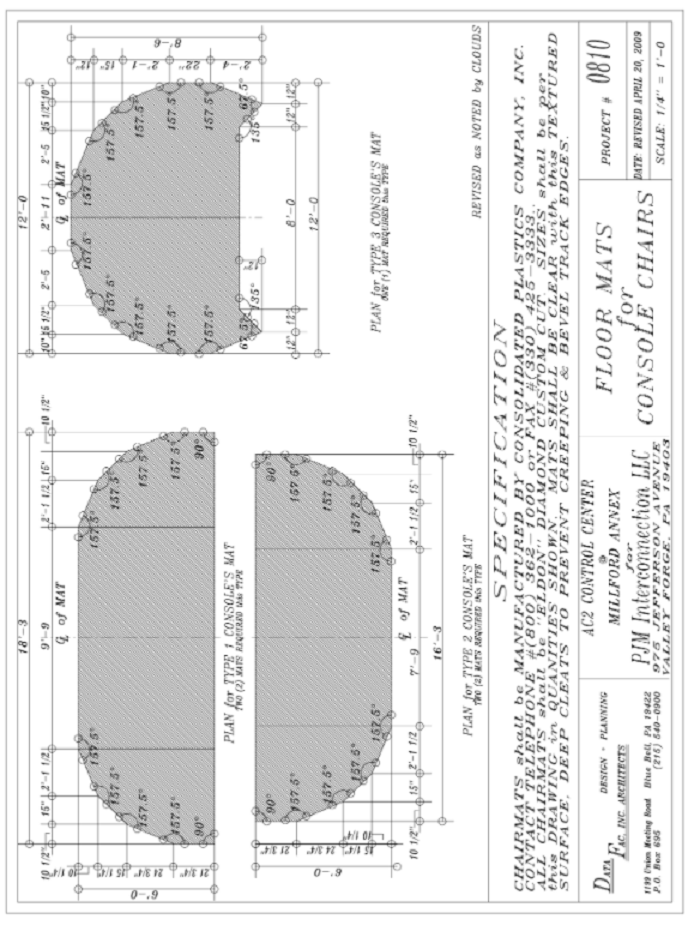 PJM Custom Mat
Regular price $7,073.00 Sale
Thank you for allowing us to quote you on this opportunity. I have prepared your quote below.  I have divided this quote out by the various applicable mat sizes. I have also included a description of the raw material size that each mat would be cut out of. This does not mean you will receive a mat equal to the size in the Raw Material Sheet Size field. Instead we will start with a mat which is that size and cut it down as appropriate so that it is cut to conform with your attached measurements. 
Type 1:
2 each 118035B 72" x 18' 3" Anchorbar .200" Thick (Premium), Beveled Edge, $1383 each
Type 2:
2 each 118035B 72" x 16' 3" Anchorbar .200" Thick (Premium), Beveled Edge, $1238 each
Type 3:
1 each 118035B 72" x 24' Anchorbar .200" Thick (Premium), Beveled Edge, Link Mat $1831 each
Grand Total: $7,073

Before you place an order with us please take a moment to review the terms and conditions below. If you have concerns about any I would advise that you start by ordering a few chair mats and trying them before ordering the whole batch. When you are ready, you may place your order at any time on our website at the following link. 
Shipping, Handling and Lead Time:
Lead time is anticipated to be 2-3 weeks from the order date.
These will come rolled and will require about 48 hours to flatten after unrolling them. 
You will have to assemble the link mat after it flattens. 
Warranty:
Both our Executive (.250 Anchorbar) & Premium (.200 Anchorbar) chair mat lines are guaranteed for life and covered by our no hassle lifetime warranty. These extra thick chair mats for carpet are guaranteed not to break, chip or crack. EVER.
To make a claim simply reply to this email and we will arrange delivery of a replacement or refund of the original purchase price. 
The use of "ball casters" will void your warranty. These casters are very inefficient and cause unnecessary stress on the mat causing it to deform or break. Luckily almost all modern chairs use the superior "roller casters" so this is rarely an issue.

The warranty is valid and enforceable for one replacement only for each mat.  
Link mats are not covered under warranty.
Returns: 
We aim to provide you with a product that meets your unique specifications. Therefore, all sales of Customized Chair Mats are final and cannot be exchanged or returned for a refund.  We do not guarantee that a mat will not dimple, as several factors can impact this. 
In the event that your chair mat is defective, is cut from material other than what you selected or is not cut to the dimensions you requested, we will replace it at no cost to you. If this is the case, contact us within 2 to 3 business days of receiving your order and we will relay further instructions on how to return the material.
You will not be eligible for a return because your mats are customized. 
Mats are not returnable for improper fit due to a customer's measuring error. However, if the improper fit is a result of our measurement error or if we cut the mat incorrectly, we will gladly refund or replace the mat. We retain the right to determine what is and is not an improper fit. 
Link Mat:

The Type 3 mat as described in the picture you provided will be a link mat. 
The link will be roughly in the center of the mat parallel with the long side. 
With a Link Mat, we cut two chair mats to fit together, much like two puzzle pieces. We do this because our machines can't always make chair mats that are wide enough to satisfy our customers' needs. This is because the machines are only so wide themselves. Please note, ALL SALES ARE FINAL for link mats. We do not accept returns or refunds for dimpling, or customer preference. We will only offer a replacement if the mat is not cut from the right material, or not cut in accordance with the measurements provided by the customer.